Has your site recently suffered in the rankings after one of the most recent Penguin updates? Many small and large business owners alike have suffered the negative effects that Penguin can have on website rankings.
This might seem like the end of the world. It may have hurt your business. But you can recover from this situation, and we are going to show you what to do by sharing some important Penguin penalty tips with you today.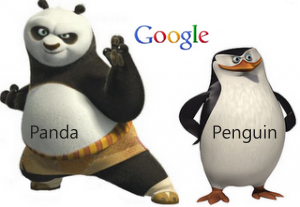 Let's get started…
Make a List of Your Backlinks
First and foremost, it's necessary to discover each and every one of the backlinks pointing back to your site. There are a number of different tools that you can use in order to create this list. We recommend using Open Site Explorer, Majestic SEO, Ahrefs and Google Webmaster Tools. There are many other tools that you can use as well.
Based on information gathered from other webmasters, it's important to pull backlinking data from at least three of these tools. This will help you gather the most comprehensive list to work with. You can cross reference the data, and this makes it easier to find the most links.
Analyze Your Backlinks for Quality
The Penguin penalty has everything to do with quality backlinks, or the lack thereof. For the most part, Google will penalize your website during the Penguin update because you have many unnatural links pointing to your website. But don't worry because this does not say that all of your backlinks are bad, just some in key areas.
Google will penalize any website that they feel has spammy backlinks coming from spammy websites. You have to figure out which links fit these criteria. You will be able to tell while performing the analysis.
Several link types fall under this scrutiny. Google tends to dislike links such as:
Low PR backlinks.
Backlinks from untrustworthy or irrelevant sites.
Blog network links.
Backlinks from non-indexed websites.
Site-wide links.
Disproportionate use of anchor text.
Forums and article directories.
Begin Tracking the Backlinks That Need to Be Removed
Next up on the agenda is tracking your backlinks. It makes the most sense to go through each and every one of the links that you gathered in the earlier steps. Mark them off as being "okay" or "not okay". You may feel uncertain about other links, so make a note of those.
Remember, what is considered a quality backlink by Google one day might turn into a spammy link later on. So tracking your links is a great way to determine which links need to be removed or disavowed.
Begin the Removal Process
You can do one of two things in this situation. Begin talking to webmasters and asking them to remove the links pointing back to your website. If that doesn't work, begin using the Google disavow tool instead. This will eliminate the impact that these negative links have on your website.
Follow this process and you will recover from a Penguin penalty in due time.
If you don't want to do it yourself, give us a call for a professional SEO penguin penalty recovery and online reputation management consultation service.
How To Remove Penguin Penalty DIY"/>