Here at A+ (short for A+ Search Engine Marketing), we live and breath Internet Marketing. Our main business is focussed on running our portfolio of high ranking websites that are run entirely from search engine traffic.  We don't promote our SEO expert services and only offer it to prospective clients who are referred to us from existing clients or who come by our website.
Starting in early 2008, Haiming Jiang, the Google expert in New Zealand, created A+ Search Engine Marketing with the vision of owning a profitable business that was entirely Internet based.  Being an highly adept programmer with a technical bent, Haiming focussed from the start on utilising his understanding of artificial intelligence and the power of search engines to drive targeted traffic to our websites.  Starting off in relatively uncompetitive markets like the trades, A+ offered cost effective, targeted and measurable advertising for many New Zealand businesses who were keen to have an alternative to the Yellow Pages.
Since then A+ has grown in size and scale, hiring additional google expert & specialist team members in New Zealand, China and the Philippines to handle the growth. The vision is now to take our search engine expertise to international markets, competiting in some of the most hotly contested markets on the Internet.  Back in New Zealand we still provide SEO to a small number of select SEO clients and are dedicated to lifting their websites into the top 10 on Google faster and higher than any other SEO company in New Zealand or worldwide for that matter.
Haiming Jiang M.Eng
Managing Director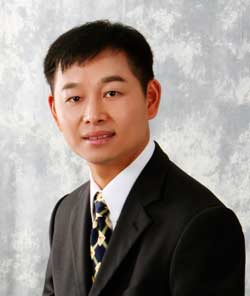 SEO and Google Expert
Before becoming New Zealand's #1 Google Search Engine Expert, Haiming Jiang was an IT engineer for several multinational and local companies, including Datacom and the Waitomo District Council. Utilising his commercial experience and Masters Degree in Electronic Engineering, Haiming started his own IT business in 2006, quickly growing it to 94 clients before selling the business at a profit in 2008.
In 2008, after seeing the potential in Search Engine Marketing with the growing influence of Google, Haiming decided to become the #1 Google Expert in New Zealand.
NZ's #1 'SEO Expert' inside 12 Months
Within 12 months, Haiming had reached #1 in New Zealand for 'SEO Expert' and several other keywords. At that time, Haiming's sole intention was to focus on his portfolio of 119 websites, but soon private clients started asking him to help rescue their websites from the dark depths of the Google search results.
Come mid 2011, Haiming's approach to SEO has seen 94 client websites onto the first page of Google, with an average time to reach the first page currently sitting at 92 days. Not only that, these websites have remained in the top 10 for months and years afterwards, often rising to the #1 position.
Outside the office, Haiming is a keen family man and loves spending time with his partner Sun Lu and five year old son Tonglin.  Haiming is an avid fisherman, regularly heading out on the water with clients Sandspit Fishing Charters in Warkworth and Zefiro Charters in Auckland's Viaduct.  Back on land, Haiming is an ever-improving tennis player and member of the Birkenhead Tennis Club, where he enjoys beating Gabriel at every opportunity.
Haiming's Professional Qualifications Include:
Masters Degree in Electronic Engineering from Harbin Institute of Technology (Ranked as one of the Top 10 Universities in China), 1991
Novell Certified Network Engineer (CCNE), 1997
Microsoft Certified Professional Systems Engineer (MCSE), 1998
Cisco Certified Network Associate (CCNA), 2001
Sun Microsystems Certified Unix Systems Administrator (CSA), 2002
Certified Internet Webmaster Security Analyst (CIW), 2003
Certified Information Systems Security Professional (CISSP), 2004
A+ Search Engine Marketing is based in Albany on Auckland's North Shore.  Despite being based in Auckland, we have many clients around New Zealand as well as internationally.
Call Google SEO expert to discuss your website and your plans with regard to Google.  We'll give you free, no obligation advice about the best SEO strategy for you.  If we think you idea is worthwhile investing in SEO, we can give you an indication of the likely monthly investment it will be for us to get your website higher.  From there we can schedule a time to meet at our offices and plan out an SEO strategy for you.
About A+ SEO"/>