Last week we covered the value of On-Page SEO for your site. This week we look at one of the most important SEO tools all local businesses need to be aware of, Google Places.
Here's what you will learn today:
✓ Why your business needs to be listed in Google Places
✓ How to obtain quality business reviews
✓ How to ensure your listing meets Googles guidelines
✓ How to boost your rankings with one simple backlink
If you're familiar with Google search you may have noticed how Google places results (Google's business directory) are now blended in with the organic search results. Google have done this in an attempt to provide more relevant search results as at least 20% of search queries are local.
This means  that Google now places more importance on local searches. They want to show more established, verified businesses reputation management over new, unverified websites in their results.
SEO now requires a two pronged approach.  In order to rank at the top of Google for local keywords you need a classical SEO strategy combined with a well optimised Google Places listing.
Four Ways to Improve Your Google Places Listing
Get Reviews
Google wants to show results that are useful to its users.  Google regards reviews by it's users as being the most relevant and timely source of information on a business. Therefore businesses with many reviews will move up the Places rankings.  With five or more reviews, Google will display a gold star rating next to your listing.  With 20 or more reviews, Google will start to include small snippets of the reviews (and other information) next to your listing in the Places results, in and amongst the normal organic results.
For example: Search result for "Hotel Auckland"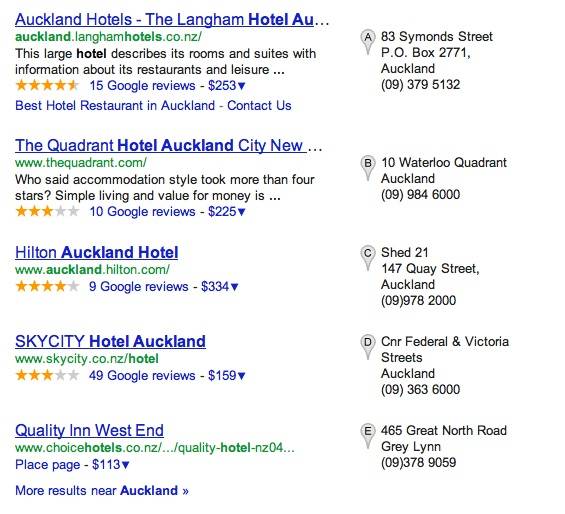 How to Get Reviews:
Ask
Contact your best customers, your supplies and anyone else who does business with you.  To make it even easier you could send them a short review form to fill out.
Incentives
People love free stuff. You could offer your customers an incentive in exchange for a review. It could be anything from a discount, free shipping to writing a review for them.
Email Link
Email your clients/contacts/suppliers with a link to your Google Maps listing.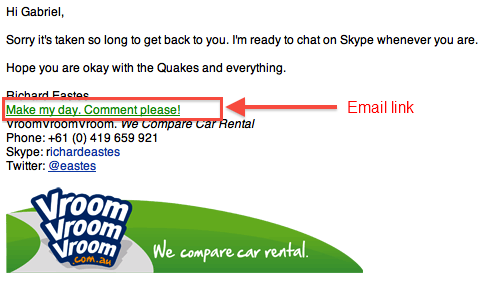 Follow the link and post a review.  The reviewer must be logged into their Google Account to post a review.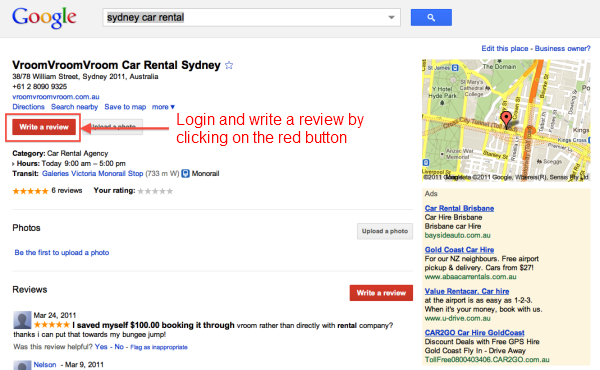 Direct Link
You can also send reviewers a direct link to your Google Maps listing. Simply go to your Google Places page.
Click on the link option in the top right hand corner and copy the URL.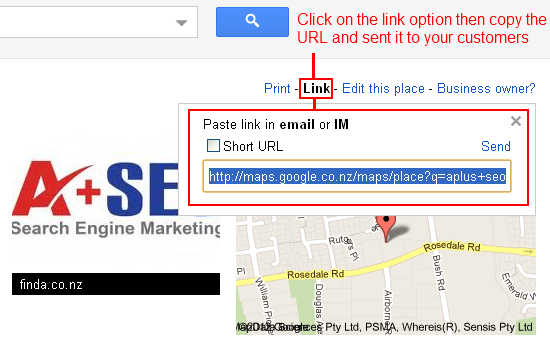 –
Create an Anchor Text Link to your Maps Listing
Anchor text is simply the visible text of a hyperlink, for example the text link below links to our home page using the anchor text SEO Experts.
The HTML code for this is:
Using your keywords as the anchor text is the basic principal of back linking. This tells the search engines what a page is about, enabling them to rank it higher for that phrase or keyword.
Just like other webpages you can create anchor text links using your keywords that link back to your Google Places listing, improving its ranking.
Simply grab your Google Places direct link (refer back to the direct link example) and you're ready to go. A good place to put the text link is in the footer of your website.

Here's one we setup for our client Green Gopher. All we did was grab the link to their Google Places page:
http://maps.google.co.nz/maps/place?cid=5178909922312281326
Then we inserted it into the footer on their website using this HTML code:
Here's how it looks on the visible web-page:
Green Gopher Landscaping Supplies
NB: "Landscaping Supplies" is the keyword phrase they wanted their Google Places page ranking for. Simply follow this formula using any of your targeted keyword phrases.
–
List on other NZ Directories
Google Places creates its local search results by gathering information from other online business directories. That's why we recommend you list your business on as many directories as you can. The most important directory is Finda.  Other directories that have an embedded Google Maps as part of their listing are also useful to be listed under.  This is not absolutely necessary though.  The more websites that list your business at a particular address, the more authoritative the original Google Places listing is.
It is vitally important that all your business information is consistent across the directories. The most important details are:
Business name (N)
Address (A)
Phone number (P)
A small thing such as adding "LTD" to your business name on one listing and leaving it out on another can cause problems. Google is focussed on improve the user experience and doesn't like inconsistencies. If it finds them it will prevent your Google Places listing from showing in the search engine results.
Getting listed in other directories creates more trust within Google, gives you more exposure and ultimately will help you rank higher.
–
Embed Your Google Map into Your Website
Search for your business on maps.google.co.nz

Click the marker on your listing in the left hand column to bring up your business information on the map.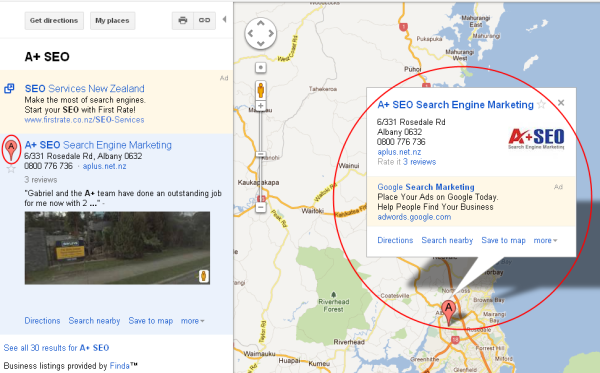 Click on the link symbol at the top left hand side of the map. Copy the HTML to display the map.

You can change the size and see what your map will look like by clicking on the "customise and preview embedded map" link.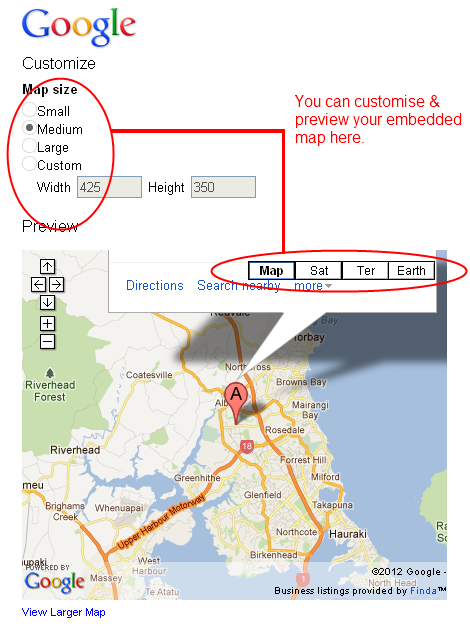 Now simply paste the HTML code into your site. Check out how we've embedded our Google Maps code.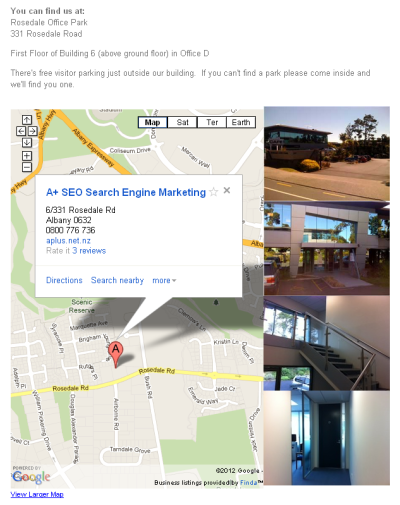 Apart from generating customer reviews, A+ SEO is able to provide all of these services to our clients at no extra cost as part of their current SEO program.
In part four of the SEO Mini Course we delve deeper into the importance of internal linking. We show you exactly how to implement in onto your site to improve your site usability and in turn, your ranking.
–
See you at the top!
The Team at A+ Search Engine Marketing
Got Questions?  Need Answers?
If you've got a question about how Google Places works (or want us to do it for you), contact us and we'll be in touch.  Your feedback and suggestions are welcome too.
Week3: Optimise Your Google Places Listing"/>